Captured by Dark Elves: Arachna's Return [COMPLETE EDITION]
A downloadable game for Windows and Android
UPDATE: Captured by Dark Elves is now complete! Thanks to all patreon supporters who made this game possible!
You have been captured by a small group of dark elven hunters, who are bringing you to an old mine, the skull mine, in the ancient mountains where you and other captured humans and elves are forced to dig for ore, gems and artifacts. The dark elves of the noble house Bavaeleth are known for their cruelty and their devotion to the old gods. Recently the house executed all male members in order to gain the favour of Goddess Demorra, the Queen of Pain.
Soon you discover that even most of the dark elves don't know exactly what they're looking for in the skull mine and that some of them are pretty upset with Matron Mother Valyrr Bavaeleth who gave the order to leave their home city for this dwarven mine.
While you're trying to survive this dangerous place full of weird creatures, you also have to please your captors whenever they demand your services and earn enough skulls (the dark elven currency) everyday to buy food and water. Maybe you are losing your mind in this place, maybe the situation is just too much for you, but the longer you are in this place, the more you begin to hear a voice in your head, haunting you when you sleep, calling your name...
It is an adult fetish game for those of age 18+! If you are not comfortable with that kind of content and if you're not in a healthy and sane state of mind, then do not play the game.
With downloading the complete game you get all episodes!
Complete Walkthrough for the Game can now be found here!
Fetishes:
Femdom (Strap-On, Whipping, BDSM, Torture, Bondage, Submission, Domination…etc)
Foot Fetish, Oral Worship, Cunnilingus, Corruption, Humiliation, Mind Break
Futanari (Futadom, Futa on Male, Futa on Female)
And many, many more… (basically we can talk about everything you want to see in this game! As long as it will fit the scenario, I will consider it!)
The intro and tutorial is complete, the next episode is currently in development. Please consider supporting this game on Patreon.com/Darktoz!
Update: Captured by Dark Elves Episode 1 is available now and can finally be played on Patreon.com/Darktoz
Update 2: Captured by Dark Elves Episode 1 is now available for everybody! Enjoy!
Update 3: Captured by Dark Elves Episode 2 is now available for Patreon Supporters! Enjoy on Patreon.com/Darktoz

Update 4: Captured by Dark Elves Episode 2 is now available for everybody! Enjoy!

Update 5: Captured by Dark Elves Episode 3 is now available for everybody! Don't waste time, play it ;) !
Update 6: The first and second part of the endings are now available for everybody! Play it for free!
Update 7: 7 updates later, the game is complete and available for everyone for free!
The current version contains the previous Episodes as well! You can keep your savegames from the previous Episodes as well! Simply overwrite your existing folder with the new version!

Thanks to translator MAKeevchanin the game is also available in russian!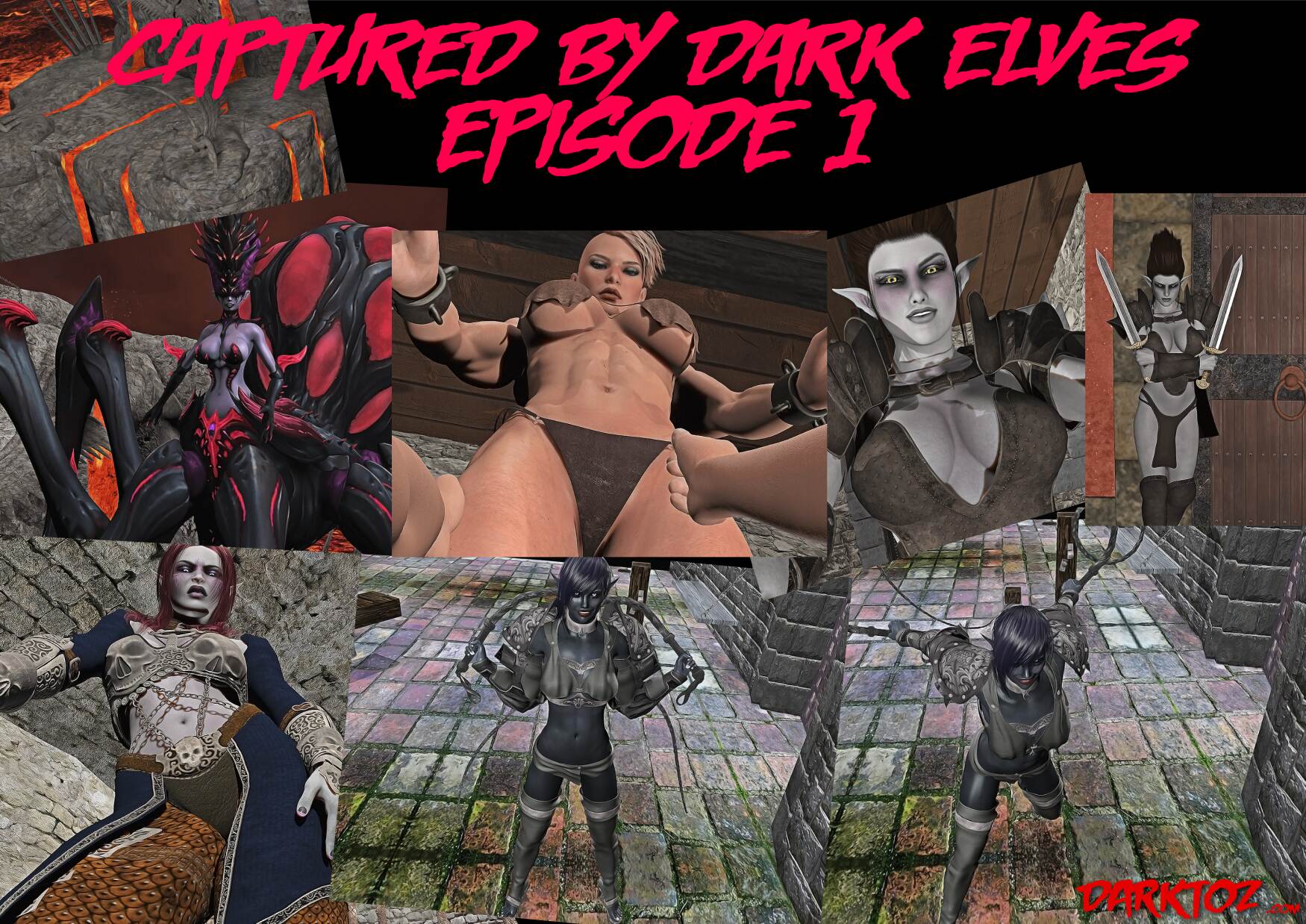 Enjoy! And stay kinky :)
New: Play on Android!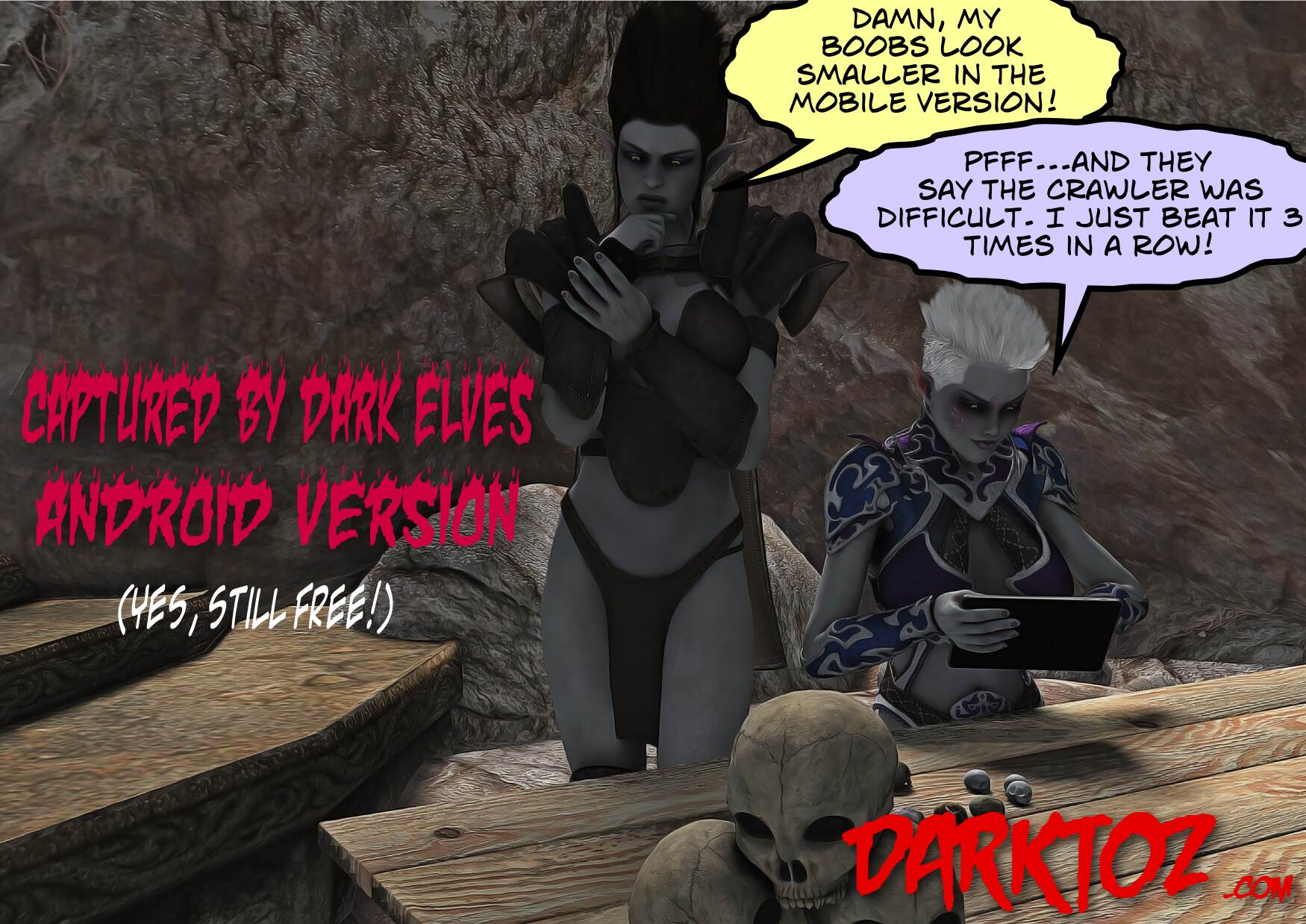 Playing Captured by Dark Elves on Android Devices is very simple, just use your finger to touch anywhere you want to move or interact with. But there is one thing that you need to know: For the Escape Button, that is also used to erase the letters when you want to Enter a new name or to turn down Khadra's or Takashi's Sale Menu or to simply access and get out of the main menu, you have to use the DOUBLE FINGER TAB. That means you touch the screen with your left finger on the left side and with your right finger on the right side. At the same time. Got it? N0? Jeez…these mobile gamers…once again: Normal finger touch to move and interact, double (both at the same time) finger touch the screen for erase/escape/open main menu. Got it now? No? Oh my….
It might not work on all android devices, especially not on older ones.
| | |
| --- | --- |
| Status | In development |
| Platforms | Windows, Android |
| Rating | |
| Author | darktoz |
| Genre | Role Playing, Simulation, Survival |
| Tags | bdsm, drow, Fantasy, femdom, futanari, NSFW, RPG Maker, sex |
| Average session | A few seconds |
| Links | Patreon, Homepage |
Download
Click download now to get access to the following files:
Captured by Dark Elves FINAL EDITION.rar
1 GB
Captured by Dark Elves Final.apk
1 GB
Captured by Dark Elves RU (Russian Translaton).rar
1 GB